Discover more from Between the Noise🎯
Your Weekly Dose of Quality Content
Between the Noise🎯 #13: The Making of Amazon Prime, Most People Don't Want To Be Happy & More
This article focuses on Amazon Prime's initial days, back in 2005 how Prime looked like. What were the ideas & brainstorming went behind Prime & how it changed Amazon as a company, forever. This includes short stories from top Amazon executives, some crazy decisions Jeff Bezoz took at that time. Amazing Read!
---
Take the example of friends. Yes, we love them, but we also all know that when we're trying to do something hard and meaningful like start a business, train for a marathon, or raise a newborn, these relationships tend to fall by the wayside. That's because we often feel accomplishing these big goals and then looking back at them with satisfaction is more important than the happiness of hanging with friends. Memory, in other words, trumps momentary pleasure.
---
This is a brilliant article from Hiten Shah, Founder of KISS Metrics. He describes his journey of building his company and then seeing it fall in front of his eyes. The Hiten Bomb - It would be some new idea, some new direction, some new brilliant thing Hiten used to come with every now and then. A new feature he thought would help them grow. (But really, it wouldn't). These ideas mainly came as competitor-inspired idea, something his investors, advisers or friends told him to do which Hiten wanted to implement without thinking about it.
---
---
Habits is one of the topics I remind myself about every now and then. This week, I liked this inforgraphic showing habits of highly successful people like Steve Jobs, Elon Musk, Mark Zuckerburg, Bill Gates & more. Many of these habits are fascinating, but I think these habits only make them highly exceptional people in the world.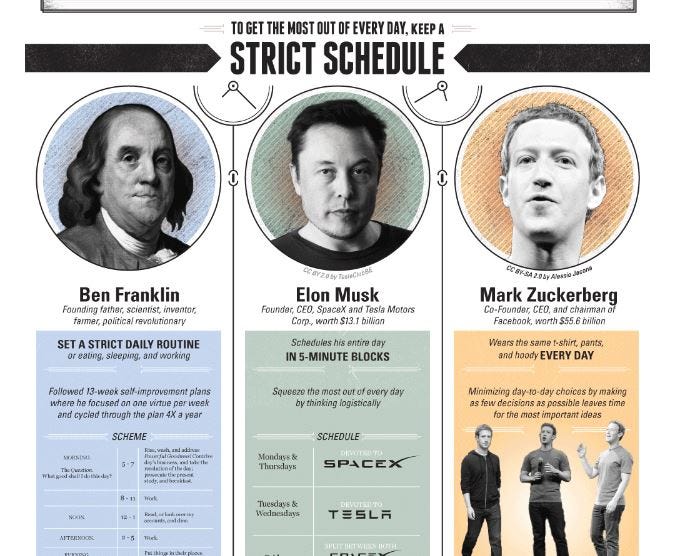 ---
On this episode of The Knowledge Project, best-selling author and professional poker player Annie Duke (@AnnieDuke) and Shane Parrish (@farnamstreet) discuss how to disagree without being disagreeable, spotting biases that sabotage our success, how to find signal in noise, and reliable decision-making models for high stakes, high-pressure situations.
---
You can invite your friends to this newsletter by sharing them this link : https://abhayjani.substack.com. Please write to me @ abhayjani96@gmail.com for your comments/queries.