Between the Noise🎯 #5: Facebook's Most Shared Story, Fake Luck In Video Games & More
All the social media experts always talk about how algorithm works for different social media, but no expert predicted how this 119-word Local crime story became the most shared Facebook story of 2019 (till now) with more than 800,000 shares. It's against all the odds - from a local US TV station, very short content, no catchy misleading photos, no SEO. The headline is kind of misleading but misleading headlines also do get this much of reach, even if it's from a mainstream News company. Maybe, experts still do not fully understand the Facebook algorithm.
---
These people are now submitting to a new middleman, who they know controls the customer relationship and will eventually have to take a big cut, as Uber drivers would be happy to tell them. And because the ideas themselves are not rocket science, the competition has been fierce. Just in this sample, there are eight Ubers for doctors, six booze-delivery companies, five laundry services, and four each of massage, dog-walking, and car-washing start-ups. To drive faster growth, they have to charge customers less (increasing demand) and pay workers more (increasing supply), then fill the gap with venture-capital funding.
---
If you think, you always excelled at video games, because you're a great gamer then you're being fooled. This article talks about how Game Designers program luck in favor of a new player & make them win even if they actually have very less chances. This manipulation keeps players engaged & attracted towards the game.
We do apply a lot of extra 'luck' to players in their first half-dozen levels or so to keep them from getting frustrated while learning the ropes
---
Collectively, the Big Five tech giants combine for revenues of $802 billion, which is bigger than Saudi Arabia's economy. Here's how it breaks down.
FYI: Facebook & Google makes 98.5 & 85% respectively of their total revenue through ads.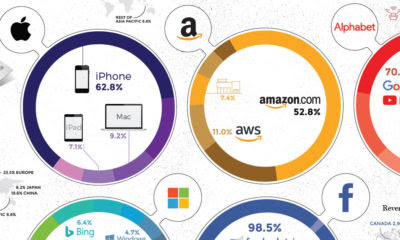 ---
---
In case of any comments/queries, please write to me @ abhayjani96@gmail.com. Please invite your friends by sharing them this link: https://abhayjani.substack.com.